David Colo
President and CEO
David Colo, a member of the MGP board of directors since 2015, assumed the role of president and chief executive officer on June 1, 2020. He has more than 30 years of leadership experience in general management, operations and supply chain management within the food industry.
He served as President and Chief Executive Officer of SunOpta, Inc., Toronto, from February 2017 to February 2019. He had been Executive Vice President and Chief Operating Officer of Diamond Foods, Inc., San Francisco, since June 2013 and was Executive Vice President of Global Operations and Supply Chain at Diamond Foods for a year prior to that.
Before joining Diamond Foods, Mr. Colo spent approximately three years as an independent industry consultant, focusing on organizational optimization and planning. From 2005 to 2009, he held leadership positions in the consumer products division of ConAgra Foods, Inc., including roles as Senior Vice President of Sales and Operations Planning, Senior Vice President of Enterprise Manufacturing and Senior Vice President of Operations. From 2003 to 2005, he served as President of ConAgra Food Ingredients.
Mr. Colo had previously served for several years with Nestle-Purina Pet Care Company in roles of increasing responsibility, including Vice President of Supply for the company's Golden Products Division, and Vice President of Store Brands and Venture Development. He also served for two years as President of the American Dehydrated Onion and Garlic Association.
David Bratcher
President of Branded Spirits and COO
David Bratcher serves as President of Branded Spirits at MGP. He joined MGP following the Company's April 2021 acquisition of Luxco, Inc. Luxco now operates as MGP's Brands Division. In July 2021 he was appointed to the role of Chief Operating Officer for MGP. In this COO role, David will continue to report directly to Dave Colo, President and CEO, and will assist Colo with the management of the overall MGP business.
As President of Branded Spirits, David oversees the Company's extensive and award-winning spirits portfolio that includes numerous well-known brands from its six distilleries. Prior to the 2021 merger, David served in several leadership roles at Luxco since his hire in 1998 as Director of Operations. He most recently served as President of Luxco, a title he held since 2013.
Before joining Luxco, David served in financial and operational roles for a number of consumer product companies, including serving five years as Controller and then Director of Operations for the international spirits company Allied Domecq, the second-largest spirits company in the world at the time.
David received his bachelor's degree in business administration and management from the University of the Ozarks in Clarksville, Arkansas. He earned his master's degree in business administration and his doctorate in management and business administration from Webster University in Webster Groves, Missouri.
Brandon Gall
Vice President of Finance and CFO
Brandon Gall has served as Vice President of Finance and Chief Financial Officer since April 2019. Since joining the Company in 2012, Gall has advanced through a steady progression of leadership roles, including Director of Financial Planning & Analysis, Director of Supply Chain Finance, Director of Business Development and most recently, Corporate Controller.
Prior to joining MGP, Mr. Gall had worked for Errand Solutions, Chicago, as director of finance and human resources. He also served as a summer associate at GRI, a private equity fund located in Baltimore, Md., in 2010. There he led efforts in identifying, evaluating and executing new investments and monitoring existing portfolio companies' performance.
From 2005 to 2010, Mr. Gall was employed by Credit Suisse Securities in Chicago, where he served in various analyst and associate roles. At Credit Suisse he earned numerous securities licenses including the Series 7, Series 63, and Series 66 licenses.
Mr. Gall holds a bachelor's degree of business administration from Miami University and an MBA from the University of Chicago. He is also a certified CPA.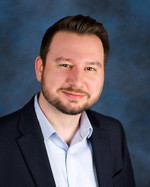 Amel Pasagic
Vice President of Information Technology and CIO
Amel Pasagic serves as the Chief Information Officer at MGP Ingredients, with responsibility for IT strategy and organization. He joined MGP as Vice President, Information Technology, when the company acquired Luxco, Inc., and its affiliated companies in April 2021.
Pasagic is charged with cultivating a data-driven culture, integrating data and systems throughout the enterprise into a unified data architecture. This will help drive predictive data insights and deliver personalization across MGP's production facilities and locations in Kansas, Indiana, Missouri, Kentucky, Ohio, Washington, D.C., and Northern Ireland.
Prior to the acquisition, Pasagic served in a variety of IT leadership roles with increasing responsibility during 10 years with Luxco.
Before joining St. Louis-based Luxco, Pasagic held a variety of consulting roles across multiple business lines within healthcare, manufacturing and financial services while working for Alliance Systems and Programming. He received both his bachelor's and master's degrees in computer science from Webster University in Webster Groves, Missouri. Pasagic continues his passion for education as an adjunct professor for Webster University.
Curtis Landherr
Vice President, Chief Legal Officer & Corporate Secretary
Curtis Landherr is Vice President, Chief Legal Officer and Corporate Secretary at MGP Ingredients, Inc., where he has led the legal department since joining the company in October 2022.
In his over 25 years as a lawyer, Mr. Landherr has enjoyed a wide-ranging career. He graduated from the University of Missouri-Kansas City School of Law and began his legal career at a litigation firm in Kansas City, Mo., where he specialized in product liability defense and other commercial litigation. Feeling the draw of a hands-on business practice, he shifted to an in-house legal career and has held senior corporate counsel roles for large, multi-national corporations, including seven years with Olathe, Kan.-based Garmin, where he provided legal support for the aviation group. He also served as SVP & General Counsel for Cirrus Aircraft in Duluth, Minnesota, beginning in 2014, where he created, managed and grew the company's first internal legal department.
Mr. Landherr has been an active contributor to the corporate legal profession and served as the President of the Mid-America Chapter of the Association of Corporate Counsel in 2007.
He also is active in the community. Mr. Landherr proudly served as a member of the Board of Directors of the Ronald McDonald House Charities of Kansas City for five years, including a term as Board President, before moving to Duluth. In 2020, he completed three years' service as a board member of the Zeitgeist Foundation in Duluth.
Erika Lapish
Vice President and Chief Human Resources Officer
Erika Lapish serves as the Chief Human Resources Officer at MGP Ingredients, with responsibility for the human resources strategy and implementation company wide. She joined MGP as Vice President, Human Resources, in May 2021. She brings more than 20 years in global HR management at manufacturing and healthcare organizations.
Skilled in process improvement and change management, Ms. Lapish has guided the integration and significant scale-up of multiple workforces resulting from organic new-business growth and mergers-and-acquisitions. Her expertise includes leadership development, succession planning and organizational design as well as employee relations and negotiating collective bargaining agreements.
Most recently, she was Vice President of Human Resources for R1 RCM – Central Operations. She held a similar role with Benteler Automotive after serving as Director of Employee Relations and Talent Management at Masco Corporation. Prior, she spent ten years with United Technologies Corporation in roles of increasing responsibility across their Military and Commercial segments, with both domestic and international leadership assignments.
Ms. Lapish is an Emerging Leader Graduate of the Darden School of Business at the University of Virginia. She attended Michigan State University, where she received a Master of Science degree in Labor and Industrial Relations, Human Resources; and a Bachelor of Science in Business and Environmental Studies.
Michael Buttshaw
Vice President of Ingredient Solutions Sales and R&D
Michael Buttshaw has served as Vice President of Ingredients Sales and Marketing at MGP since December 2014. He previously spent four years as Vice President of Sales for the ingredient group at Southeastern Mills, Inc., Rome, Georgia. Just prior to that, Mr. Buttshaw was Vice President of Sales and Marketing for Penford Food Ingredients, Centennial, Colorado. This followed two years as Vice President of Sales and Business Development—specialty enzymes for DSM Food Specialties, Parsippany, New Jersey. From 1985 to 2008, Mr. Buttshaw was employed with Hormel Foods Corporation, Austin, Minnesota. He began there as a process engineer in quality assurance and later served in a series of technical and management positions at various locations in the U.S. In 1999, he was promoted to National Sales and Marketing Manager for Hormel's specialty products division.
Mr. Buttshaw is an active member of key industry and professional organizations, including the Institute of Food Technologists and Research Chef's Association. He received a bachelor of arts degree in education with an emphasis in mathematics from Gustavas Adolphus College, St. Peter, Minnesota, in 1985, and a MMI in management and marketing from the University of Minnesota's Carlson School of Management, Minneapolis, in 2002. He also completed executive training at Northwestern University's Kellogg School of Management in Chicago.
Matt Krusemark
Vice President of Distilling Solutions Sales
Matt Krusemark assumed his current role as Vice President of Distilling Solutions Sales in January 2023.
Mr. Krusemark is well-versed in all aspects of the company's alcohol business. He joined MGP in 2005 as an inside sales and customer service representative and was promoted in 2010 to Inside Sales Manager for food grade and industrial alcohol. When the company acquired the historic former Seagram's distillery in Lawrenceburg, Indiana in 2011, Mr. Krusemark added brown spirits sales to his responsibilities and was named Alcohol Sales Manager. He was promoted to Alcohol Sales Director in 2021.
Mr. Krusemark received a Bachelor of Business Administration degree from Kansas State University in 2004 and an MBA
Ryan Earey
Vice President of Branded Spirits Sales
Ryan Earey is Vice President of Branded Spirits Sales at MGP Ingredients. He joined the company with the April 2021 acquisition of Luxco, Inc., where he served as Vice President of National Sales, beginning in 2017.
In more than 15 years with Luxco, Mr. Earey held sales positions of increasing responsibility. He was National Sales Manager, including responsibility for sales to Control States, from 2014 to 2017. This followed more than eight years as Division Manager covering the Mid-Atlantic and Eastern Control States.
Before joining Luxco, Mr. Earey was a District Manager at Blue Ridge Wholesale, spending three years as part of the E. & J. Gallo Sales Training/Leadership Development Program.
He received a communications degree from the University of North Carolina at Chapel Hill, where he was a 3-year letterman in baseball and was eventually selected by the San Diego Padres in the 6th round of the 2000 Major League Baseball Draft.
Fletcher Buchman
Vice President of Marketing
Fletcher Buchman is Vice President of Marketing at MGP Ingredients. He joined the company with the April 2021 acquisition of Luxco, Inc., where he served as Marketing Director beginning in 2018. Mr. Buchman assumed his new role leading marketing for MGP's Branded Spirits, Sourced Alcohol and Ingredient Solutions segments in October 2021.
As Marketing Director, Mr. Buchman oversaw the entire Luxco portfolio of brands including Ezra Brooks, Rebel, Yellowstone, El Mayor, Everclear Grain Alcohol, Saint Brendan's and The Quiet Man Irish Whiskey. He was recruited in 2014 as Brand Manager to lead strategic development and execution of brand positioning and communication for Luxco's whiskey brands. In that role, he launched 13 brands.
Prior, he spent more than a decade with Anheuser-Busch InBev, beginning in the Field Media Group as an account executive managing local media buying for Anheuser-Busch wholesalers in Kentucky, Tennessee and West Virginia. He later was promoted to manager of media planning, working directly with brand marketing teams, and then promoted to manager of national print and digital media for the Anheuser-Busch portfolio in North America. Ultimately, he was promoted to associate brand manager for the Shock Top brand.
Before his work in the beverage alcohol industry, Mr. Buchman was a media planner and buyer for corporate and political clients. He earned a Bachelor of Arts in Journalism from the University of Maryland in College Park.
Steve Glaser
Vice President of Production and Engineering
Steve Glaser has served as Vice President of Production and Engineering at MGP since October 2015. He possesses over 30 years of executive leadership and senior operations experience. Mr. Glaser joined MGP as Plant Manager of the Company's Atchison, Kansas facility in 2011, and served as Corporate Director of Operations since 2014. Just prior to coming to MGP, he served for three years as President and CEO of Briggs Industries, Charleston, South Carolina, a leading, multi-site international kitchen and bath products business and subsidiary of Ceramicas Industriales S.A., Santiago, Chile. That followed three years as Vice President of operations for the Company.
Mr. Glaser received a bachelor of science degree in industrial engineering from Louisiana State University, Baton Rouge, in 1983. The following year, he earned a master of science degree in industrial engineering at Purdue University, West Lafayette, Indiana. He also holds a master of science degree in electrical engineering from the Naval Postgraduate School, Monterey, California.